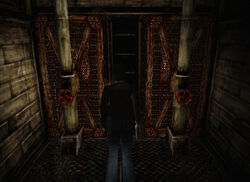 This article is a guide for a Silent Hill puzzle.
The Valve Puzzle is a puzzle that Harry Mason comes across in Silent Hill. It is found in the Otherworld version of Midwich Elementary School, within the school's boiler room. It consists of two turnstiles that are blocking the path and must be turned using a set of valves. The puzzle must be solved in order to reach the lowest floor in the school and battle the Split Head monster.
Solution
The main obstacle is the turnstiles blocking the passage. They consist of two rotating poles with horizontal bars. Both turnstiles are controlled by two valves; that is, turning one valve turns both turnstiles a set amount. The goal of the puzzle is to turn the turnstiles so that the side with no horizontal bars is exposed and Harry can pass through.
Both valves can be turned left and right. The left turn acts as the opposite of the right turn, and vice versa. A right turn on a valve would simply reverse the left turn.
A left turn on the right valve turns the left turnstile 90° clockwise and the right turnstile 180° clockwise.
A left turn on the left valve turns the left turnstile 180° counter-clockwise and the right turnstile 90° counter-clockwise.
Because the turns of the valves can be reversed there is no single solution to the puzzle, it is essentially a guessing process; however, from the starting configuration the quickest solution can be:
Left turn on the right valve
Left turn on the right valve
Right turn on the left valve
Gallery