Wall Men are monsters which appear almost everywhere in Silent Hill 4: The Room.
A related monster, The One Truth, is one of the game's few boss fights.
Appearance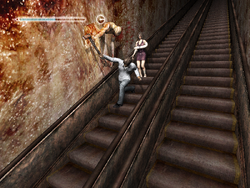 They are very lanky humanoid monsters attached to the wall at the waist; they sink into the wall and are perfectly camouflaged until they attack by swinging their powerful arms at their prey. Their skin takes on the exact same color and texture of the wall in which they are adhered. They are also faceless, and their hands end in wicked claws.
Character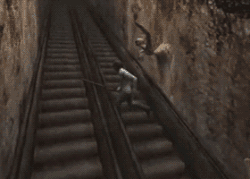 The Wall Men prove to be quite intelligent but volatile monsters. They will typically remain hidden in the wall or looking about in a pretty harmless manner until Henry Townshend comes within striking proximity, then the beast will strike very suddenly and quickly. Their blows are also extremely powerful, containing enough force to knock Henry flat on his back with ease. Wall Men will also strike relentlessly once Henry is close enough, which enables them to inflict quite substantial damage. Therefore, they are best avoided as much as possible or shot with the hand gun if confrontation is inevitable; this will stun them so Henry can pass without getting hit. Due to the fact they are stationary and cannot move from their location, it is also advised to not invest much ammo into actually killing them.
Symbolism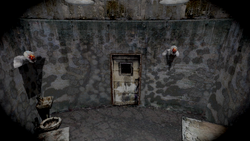 Wall Men may represent Walter Sullivan's possible claustrophobia and confinement and fear towards walls and closed spaces because he wasn't allowed to go outside the Wish House Orphanage, which manifested into this creature. They may also represent how he was always being watched in his cell through the walls in the Water Prison.
Another possible theory is that they represent how Walter feels about the people that surrounded him during his lifetime, as many of them seemed to hurt him, or kept him from his "mother". Thus the Wall Men come from a rather universal structure, walls, which can be found essentially everywhere.
Gallery