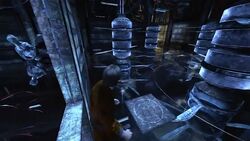 This article is a guide for a Silent Hill: Downpour puzzle.
The Water Blades Puzzle is a puzzle in Silent Hill: Downpour during the trip through the Overlook Penitentiary Otherworld.
Solution
Once Murphy Pendleton enters the room where the puzzle is located, he will see meat grinder-like blades attached to four columns. The blades are rotating at about two turns per second, and their hits are lethal. Once Murphy steps onto a plate with the Halo of the Sun engraved on it, the water pressure of one of the columns will decrease, and the blades will slow down and eventually stop for a short period of time, giving Murphy enough time to run to the opposite corner of the room, where the next plate is located.
On the surface of the water, there are circles that determine the danger zone where the blades can hit Murphy.