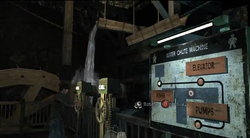 This article is a guide for a Silent Hill: Downpour puzzle.
The Water Wheel Puzzle is a puzzle Murphy Pendleton must solve in Silent Hill: Downpour to use a water-powered elevator. It is located deep within the Devil's Pit Mine. The puzzle only has two solutions; one solution for Easy and Normal settings, and a slightly different solution for the Hard setting.
Solution
To the left of the elevator is a staircase leading to the puzzle. Before solving, move the box to the left of the staircase exit under the large door leading to the puzzle; the door, like the elevator, is powered by water, and changing the direction of the water flow will cause the door to close, preventing Murphy from returning to the elevator. The puzzle consists of three valves controlling water troughs. Move the first valve until the trough is under the water falling onto the water wheel. After this, move the second valve, (Note: on Hard mode, this valve will have to be moved first), followed by the third. Backtrack to the now usable elevator.