This article is a guide for a Silent Hill: Homecoming puzzle.
The Water and Power Puzzle is a puzzle found within the Toluca Lake Water and Power facility in Silent Hill: Homecoming. It is located in Central Silent Hill, to enter the building the player must first have obtained the Lake Water and Power Key from the Toluca Lake Offices. The puzzle must be solved in order for Alex Shepherd to enter Overlook Penitentiary and rescue Deputer Wheeler.
The puzzle consists of shutting down the machines that generate electricity to cut the power. All three machines must be shut down in the correct sequence, otherwise the machines will simply reset.
Solution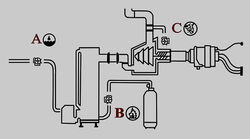 There are three machines in the facility that control the water feed, the boiler and the steam feed. A diagram on the wall depicts the three machines and designates a letter-name to them:
A

: Water Feed

B

: Boiler

C

: Steam Feed
A notice can also be found in the building regarding the order in which the machines must be shut down:
"Notice:
Due to the recent accidents we have implemented new system fail-safes. The generator will now only power down if the proper sequence is followed. First and foremost, the boiler needs to be shut down. Closing off any of the other systems before the boiler is closed will result in a system reset to prevent damage to the facility."
By following the notice it's clear that the boiler (B) must be turned off first. Following that, there can only be two plausible combinations: B, A, C or B, C, A.
After a process of elimination, the correct order is revealed to be B, A, C. Once Alex deactivates the machines in the correct order he can then turn the valve to shut down the main turbine and cut off power to the entire town.