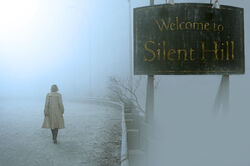 The "Welcome to Silent Hill" sign is a recurring motif within the Silent Hill series and is usually present whenever someone, such as the games' protagonists, first arrives in Silent Hill, Maine, in the game canon or Silent Hill, West Virginia, in the film canon. Even if they find themselves transported there by mysterious means, it's not uncommon for them to find themselves located near the sign.
Design
The sign is more similar to large tourism signs that advertise the town to people who may be passing through, as well as being the official entrance to the town. It is written on a large, arched backing board with two spotlights above it. It is extremely large in size and stands on two tall support beams, towering well over a human. The sign seems to have an eerie, almost intimidating and somewhat unwelcoming feel about it, which is ironic considering the true purpose of a welcome sign in general. It can be speculated that the sign has been changed over the years, or that there are various signs located in different places.
Appearances
Shepherd's Glen sign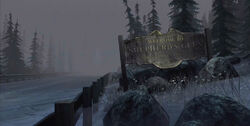 A similar sign is seen to welcome visitors to the small town of Shepherd's Glen. Like the sign found in Silent Hill, it proclaims "Welcome to Shepherd's Glen", with the second line of text reading "Where Family Comes First", most likely a tongue-in-cheek reference to the events that make up a large portion of the town's history.
Trivia
The welcome sign was an idea created for the film. Welcome signs never appear in the first four Silent Hill games.
In Origins, the sign says "Welcome to Silent Hill" when Travis enters the town, but once the camera shows the other face of the sign, it only indicates "Silent Hill" (instead of "Now Leaving Silent Hill," for example). This peculiar lack of a preface could mean that it's easier to enter Silent Hill than to leave it.
In Silent Hill: Revelation, the back of the sign reads "You Are Now Leaving Silent Hill" as Sharon, Vincent, and Travis drive away from it. Soon after, the camera rotates around to show the "Welcome to Silent Hill" side with fog descending once again, even as Murphy Pendleton's prison van and his police escort drive in.
The welcome sign is shown in the E3 2010 trailer for Silent Hill: Downpour, yet it does not appear in the actual game. Perhaps this is because of how Murphy Pendleton enters Silent Hill after going through the mines of Devil's Pit where as in the trailer Murphy is seen running down a road passing the sign into town trying to evade the police.
Gallery
Community content is available under
CC-BY-SA
unless otherwise noted.