"
You are being shown, unequivocally, that there is more to reality than you ever dared dream.
—Whately to Doug Brenneman

"
Whately, sometimes misspelled Whatley, is the main antagonist of Scott Ciencin's comic series, orchestrating many of the events that have occurred within the comic universe. Of note is the fact that there are multiple Whatelys. These doppelgängers are referred to as the "incarnations of Whately" among themselves, or simply "the Whatelys" among others.
It is unknown if any of the Whatelys seen throughout the series are the true Whately.
Background
Described by himself in Hunger as a being native to another plane of existence, Whately exists in the mortal realm to help pave the way for his kind. To do this, it is his plan to prepare a human host to receive, nurture and birth the essence of Samael, an emissary of Whately's realm. He also actively seeks to make known to the world the nightmares and happenings occurring in Silent Hill, as doing so provides Samael with the energy needed to pass into the realm of mortals.
Abilities and weaknesses
An otherworldy being, Whately has several unique abilities at his disposal. His most versatile skill is the capability to create copies of himself, referred to by themselves as "incarnations". The exact circumstances of this ability are unknown, such as whether an incarnation is inherently weaker than the original Whately, or if Whately suffers a loss of power with each incarnation he creates.
In addition to his ability to create doppelgängers, Whately has demonstrated superhuman strength, the ability to teleport, enhanced durability, and the manipulation of fire via a magic circle, as well as binding individuals to the service of his patron, Samael.
The exact depth of Whately's weaknesses are unknown, what is known is that certain types of hide, such as the binding used on Lauryn LaRoache's book of spells, can cause severe burns and disrupt his abilities.
In his first appearance, Whately is watching over the well-being of an unknown, "sleeping" female patient deep inside Brookhaven Hospital. As Lauryn LaRoache enters the hospital, she is determined to awaken the girl in question and clear the darkness that grips the town of Silent Hill. Whately, however, stands in her way. Condemning Lauryn for bringing an evil, disrupting influence to Silent Hill, Whately dispatches a group of thralls working under Lauryn's influence. He then stands in defiance of Lauryn, incinerating her book of spells. Before he can take any further action, his physical body is dispatched by Hogg, a friend of Lauryn's.
From his corpse, monsters begin to spawn, which battle against Lauryn's remaining thralls.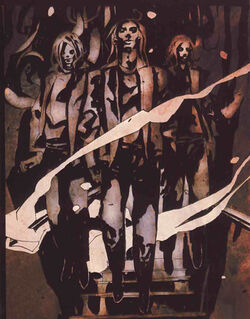 Retiring state trooper Robert Tower originally brought his replacement, Mayberry, to Silent Hill in an effort to scare the man enough to have him rethink his decision to take up Tower's post. Having never seen the nightmarish Otherworld beneath reality, Tower and Mayberry end up having to fight to get themselves and a number of innocent people out of Silent Hill and the grip of the sinister Grinning Man. As the two police officers search for a way out, they encounter a trio of Whately look-alikes, his incarnations.
Noting the men bear guns like their enemy, the Grinning Man, one of the incarnations suggests killing and consuming the two. However, the leader of the trio claims to recognize Tower, and orders he and Mayberry be left alone. The incarnations of Whately then vanish.
Hunger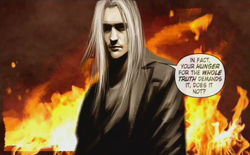 Whately has been manipulating human females with the aid of Dr. Aickmann, in the hopes of producing one capable of bearing the seed of Samael, which would allow the otherworldly entity to be born on the mortal plane of existence. In addition to kidnapping and impregnating women with Samael's seed, Whately has also been manipulating events in the life of Douglas Brenneman, a reporter for the Silent Hill Gazette. Whately orchestrates the kidnapping of Doug's fiancée and the murder of two police officers in an effort to draw Douglas to him. Upon their first meeting after the Otherworld has come to Silent Hill, Whately warns Doug that life as he had known it stands forever changed. He then leaves the man to search the town for his missing lover.
When next they meet, the enigmatic Whately appears before Douglas in Brookhaven Hospital, where he stands ready to kill Dr. Aickmann. Telling Doug that Aickmann still has his uses, Whately transports himself and the reporter out into Silent Hill, where he shares with Doug his reason for drawing him into his plan. Whately has chosen Doug to be his chronicler, who will write and speak of the unnatural things happening in Silent Hill. He then binds Doug to his services.
With his plan of birthing Samael through a female host either failed or abandoned, Whately coordinates the abduction of Connie Mills, and has her prepared for the reception of Samael's essence. He also orchestrates the framing of actor Kenneth Carter in a series of murders in an effort to spread the infamy of Silent Hill. He states that by seeding the dreams, nightmares and thoughts of the common man with notions of Silent Hill, Samael is able to draw off of that negativity, thus providing the entity with the energy needed to cross between realms.
With the arrival of Samael, Whately reveals Lenora as his nemesis Lauryn. The two battle in a fight for supremacy, though no winner is decided. Whately is ultimately defeated when Kenneth destroys Connie's body and at the same time destroys reality as it had been known.
In the reality born of Samael's death, Whately seems to have been reduced to a simple human and is apprehended in the murders that had previously been tied to Kenneth.
Trivia
Whately may be named after Wilbur Whateley, a character in H. P. Lovecraft's The Dunwich Horror.
Whately's character as a manipulative enigmatic messenger of an otherworldly entity strongly resembles Nyarlathotep, a powerful god of the Cthulhu Mythos. It is worth noting that Nyarlathotep is often described as having an ability to create multiple masks of itself, which are somewhat akin to Whately's incarnations.
Community content is available under
CC-BY-SA
unless otherwise noted.