This article is about the enemy in Silent Hill 4: The Room. For the wheelchairs as an environment staple, see Features of Silent Hill.
Wheelchairs are an environmental staple in the Silent Hill series, appearing quite often in a variety of locations such as alley ways, hospitals, and even abandoned buildings. In Silent Hill 4: The Room, an enemy in the form of a possessed wheelchair makes itself a hazardous foe.
Appearance
The Wheelchairs themselves look simplistic with aluminum frames and red padding; however, they move erratically and do a great deal of damage to Henry Townshend if they ram into him. Despite their mockable appearance, they can be quite dangerous to Henry. They have the same sort of supernatural damaging presence as Ghosts, including invulnerability, and often appear in large numbers.
Character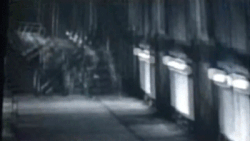 Wheelchairs do not actively attack Henry and instead just mill about quickly in a random pattern. They will damage and knock him down if they come into contact with him. When struck repeatedly, they will slow down and eventually stop, as well as lose their supernatural powers. In this state they are just ordinary wheelchairs, but will regain their possessed abilities before long.
They first appear in a corridor in the Hospital World. If Henry stays in the corridor for too long, they will begin to teleport through the rooms.
Aside from the Wheelchairs in the corridor, there is one in another room; it doesn't move or damage Henry, but there is a shadow of a figure sitting in it. When the player re-enters the room later, the shadow and the chair are gone.
Symbolism
Much like the Patients, they may represent Walter's distaste for hospitals, and helplessness in general. When Walter was an abandoned baby and child, he was essentially at the mercy of the world, unable to help himself. Additionally, they are simply a manifestation of the supernatural forces at hand.
Trivia
If Henry looks at a Wheelchair when it's near a source of light, a translucent, ghostly figure will look up at him from the seat. 
When Henry first enters the second floor hallway, there are three Wheelchairs only, but after visiting three rooms (room with falling ceiling, room with shadow on the Wheelchair, and room with the hospital room key), three new Wheelchairs appear in the hallway.
There are six Wheelchairs in total. The number corresponds to number of victims that are not seen in their ghost form:
Gallery
Community content is available under
CC-BY-SA
unless otherwise noted.