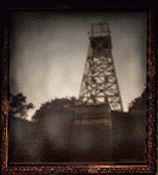 The Wiltse Coal Mine, a mining operation established around 1850, began out of the Toluca Lake area and was key in revitalizing the town of Silent Hill when funding was lost with the closing of Silent Hill Prison. The mine was operational until the early 1900s, when all available deposits of coal were consumed. In conjunction with the coal vein running dry, Toluca Prison was closed down. Both of these events were catalysts in the re-imagining of the Silent Hill area as a tourist destination.
Silent Hill 2
There are several passages James Sunderland goes through after descending from Toluca Prison that look like mine passages. In one part of the game, James descends a long elevator ride. It is unlikely for it to be part of the prison, so it can be theorized that it was part of an underground coal mine.
Shepherd's Glen coal mine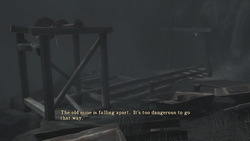 A coal mine was also seen to have operated out of Shepherd's Glen, a town neighboring Silent Hill, and it is unknown if it is Wiltse Coal Mine, or related to it. Given that Shepherd's Glen was founded in 1853, it seems likely that this mine was opened shortly after the Wiltse Mine became operational. Nothing is known of the mine, save for the fact that by the time of Silent Hill: Homecoming, it's rather derelict, with parts of it being visible from the entrance to the junkyard in town. Alex Shepherd comments that "the old coal mine is falling apart". It is right next to Curtis Ackers' junkyard, and it can be theorized that the Order used the mine for their own ends.
According to unused text in the game, Shepherd's Glen used to be known for its coal mining back in the late 1800s. The town grew quickly as miners traveled to Shepherd's Glen to work in the prosperous mines. A series of accidents coupled with a decline in the coal industry eventually forced the closure of most local mines. However, most people took up new jobs rather than abandon the town they had built.[1]
Trivia
The coal mines of Shepherd's Glen are a reference to the coal mines of Centralia, Pennsylvania, the town which inspired the Silent Hill film and, subsequently, Homecoming.
Wiltse Coal Mine shares its same name with the Wiltse Road. However, it is unclear if Wiltse Coal Mine is in close proximity to the road.
Gallery