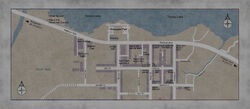 Wiltse Road is a road James Sunderland crosses in Silent Hill 2. It is located in the South Vale part of Silent Hill and connects the town with the surrounding region to the east, where the Toluca Graveyard and the Silent Hill Ranch are located, via a small tunnel beneath Nathan Avenue.
Silent Hill 2
After leaving the graveyard by the lake where he meets Angela Orosco, James is diverted along a road where there are ranches, farms, and orchards until he reaches a tunnel under Nathan Avenue. After exiting that tunnel, Wiltse Road begins, which is nothing but a road that leads directly to Silent Hill. It is parallel to a stream or water channel used for the irrigation of plantations, which can be seen faintly on the other side. Wiltse Road ends on Sanders St.
Trivia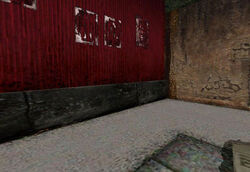 Near the tunnel by Nathan Avenue, torn posters advertising Stephen King's film The Shining can be seen on the floor and the wall, apart from several old newspapers.
If James attempts to head back to the observation deck after Maria's death, the path becomes mysteriously blocked by a brick wall that wasn't there when James first entered the town. This may be because James hasn't realized the truth, and the town won't allow him to escape until he does.
Wiltse Road shares its name with the Wiltse Coal Mine. However, it is unclear if Wiltse Coal Mine is in close proximity to the road.