You're Not Here
Album
Silent Hill 3 Original Soundtracks
Artist
Akira Yamaoka
Vocals
Mary Elizabeth McGlynn
You're Not Here is the opening theme of Silent Hill 3 and is track 2 in the Silent Hill 3 soundtrack. The song is sung by Mary Elizabeth McGlynn with accompanying guitar by Akira Yamaoka. In the game, it plays in the introduction video when the start screen is idle.
The song was featured in the Silent Hill film's ending credits and was also refeatured in the Silent Hill HD Collection as both an intro video and a selection menu theme (while "Theme of Laura" played for Silent Hill 2).
Lyrics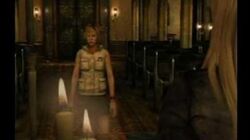 Blue sky to forever
The green grass blows in the wind, dancing
It would be a much better sight with you with me

If you hadn't met me
I'd be fine on my own, baby
I never felt so lonely then you came along

So now what should I do?
I'm strung out, addicted to you
My body aches, now that you're gone
My supply fell through

You gladly gave me everything you had and more
You craved my happiness
When you made me feel joy it made you smile
But now I feel your stress

Love was never meant to be such a crazy affair, no
And who has time for tears?
I never thought I'd sit around and cry for your love,
'til now

Uh!

Oh, I feel your stress

Oh, who has time for tears?
Oh, my baby

Yeah yeah
Yeah yeah yeah yeah

Oh, I feel your stress
Trivia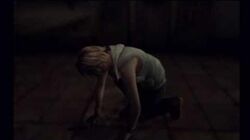 A variant of the song with less vocals appears in a trailer.
"You're Not Here" was sung by Mary Elizabeth McGlynn under the pseudonym "Melissa Williamson."
"You're Not Here" could be a reference to Harry Mason or Harry's thoughts after his wife's death before the events of Silent Hill. It could also be Heather Mason's thoughts on her father's death.

The placing can be a humorous choice, as the player "isn't there" while the screen is idle.

Another video separate from the introduction sequence featured the song with Heather lip-syncing the lyrics. This video was included in the PS2 port of DDR Extreme.
Community content is available under
CC-BY-SA
unless otherwise noted.