Silent Hill films
Silent Hill
Yvonne Ng is a Chinese dancer who specializes in Butoh dance. She has appeared in Silent Hill and Zero Patience.
Silent Hill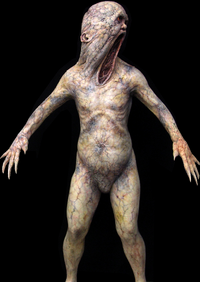 Yvonne was hired to play the Grey Children by director Christophe Gans specifically because of her small stature and knowledge of Butoh dance. Yvonne was put in a full-bodied suit and was asked to dance in a manner reminiscent of a wounded child. Because the Grey Children are depicted with their faces twisted onto the sides of their heads, Yvonne could barely see out of the suit, and actress Radha Mitchell said that she never saw Yvonne's face, although they shot a long scene together.
Trivia
Actress Jodelle Ferland said that Yvonne's Grey Child was the only monster she got to see on the set of Silent Hill.
To create the illusion of multiple Grey Children, Yvonne's movements were recorded in several different positions and were then overlapped in post-production.
Yvonne has stated in Making of Silent Hill: Path of Darkness that she has issues with frequent urination, making it so the designers of the costume had to make a flap so she could easily access a restroom without having to take the costume off or bother with any cosmetics.